Master Class of Milcho Leviev and Vicky Almazidou
Vicky Almazidu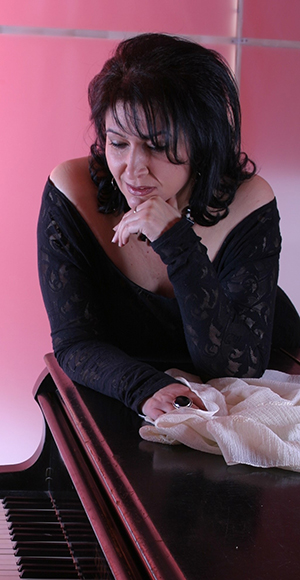 Vicky Almazidu has toured with world famous musicians like Peter Erskine, Glenn Ferris, Airto Moreira, Marc Halbheer, Milcho Leviev and co-headlined with Billy Cobham in Thessaloniki in 2003. Over the years, as part of the Summer Music Academy of NBU, she has worked with Chiko Freeman, Aaron Goldberg, David Marey, Fransicko Mella, and Craig Bailey.


Music albums issued in the recent years:

JAZZ NA HRADĚ (live), 2009, Multisonic
THE SONG OF THE CLOWN, Vladigerov – Leviev, 2010, NBU
NINA (live in studio), Vicky Almazidou & Milcho Leviev, 2015, Perfect Records
SUN, Virginia Records, 2002
QUIET LOVE, Ethnic Art, 2004


Concerts and events:
Vicky Amazidu has led Master Classes at NBU every year since 2006.


2015
Concerts promoting the albums "Nina" and "Quiet March" with Milcho Leviev

2014
August – Recording of the album "Nina"
October – Presenting the album "The Song of the Clown", Vladiguerov - Leviev, vocals by Vicki Almazidu

2012
October 15th – Chamber Orchestra in Thessaloniki, conductor Milcho Leviev - a concert in tribute to Gershwin, Ellington and Cole Porter, soloist Vicky Almazidu

2008
August 23rd – Shiroka Laka
Summer Art Academy "The Fire of Orpheus" Workshop, concert with Milcho Leviev and Valeri Kostov
July 16th – "Zanzibar" Club, Plovdiv
Concert with Milcho Leviev and Ventsi Blagoev (trumpet)
July 15th – Jazz Improvisations workshop
Concert with Milcho Leviev and Giorgos Kontrafouris, Greece
June 30th – Stara Zagora
XLI Opera and Ballet Festival, Stara Zagora, Bulgaria
Concert with Milcho Leviev (piano) and Yiotis Kiortsoglou (electric bass), Greece

2007
JULYJAZZ INTERNATIONAL ethno-festival, Smolyan, with Milcho Leviev (piano), Eco, Stoyan Yankulov, Misho Yosifov.
INTERNATIONAL JAZZ FESTIVAL, Bansko, concert with Milcho Leviev (piano), Dimitar Shanov.
INTERNATIONAL JAZZ FESTIVAL Nis, Serbia, concert with Milcho Leviev (piano), Dimitar Semov, Dimitar Shanov, Ventsi Blagoev.

Tour with Milcho Leviev (piano), organized by the "Radoi Ralin" Foundation: Blagoevgrad, Sofia, Stara Zagora.
Charity concert in Elena, Bulgaria, with Milcho Leviev. The funds raised are to be donated for the construction of the Chapel of St. Petka in the town of Elena.

Concert in tribute to Duke Ellington and Cole Porter featuring the chamber orchestra of Classic FM radio and Milcho Leviev at the Fourth International Festival "Sofia Jazz Peak".
Performance at the Fourth International Festival "Sofia Jazz Peak" and a concert at the US Embassy in Sofia with Peter Erskine, Yiotis Kiortsoglou, Milcho Leviev and Vicky Almazidu quartet.

Vicky Almazidu was born in Bulgaria. She graduated as a singer at the Bulgarian State Music Academy in Sofia. Since 1987 she has been living and working in Greece. She founded the first Jazz Vocal Class, held at the Synchronous Conservatory of Thessaloniki, Greece. Her school made her famous throughout Greece as she helped her students realize their potential on the world stage. Two of her best students have received scholarships and are now studying at Berkeley College, Boston. Besides her educational work, Vicky Almazidu has participated in a number of International music festivals and has performed in the best jazz clubs in Greece and Bulgaria.
In 1995, she founded the "Jazzoo" jazz quartet, performing at several concerts for five years. Since 2000, she has performed with the Thessaloniki Rhythm Section band (TRS). She has worked with famous Greek jazz musicians like Grigori Simadopoulos, Nikos Salonitis, Nikos Psofogeorgos, Oleg Chaly, Hristos Gremenaglou, Kostas Maginas. She works also with virtuoso pianist and composer Georgios Kontrafouris.

In the last few years Vicky Almazidu and her band, Lydian Riff, have performed at the biggest Bulgarian jazz festivals: in Bansko, Apolonia in Sozopol and Bankia. Since 2002, she has worked with Milcho Leviev, taking part in numerous concerts in Bulgaria and abroad. Their performances within the art festivals Dimitria Festival, Thessaloniki, Greece (2002) and Music Jam Sofia at Bulgaria Hall aroused great interest. In the same year, she released the album "Dreams". The CD represents a unique blend of original arrangements of authentic Bulgarian and Greek folk melodies developed into modern jazz pieces and songs. Critics highlighted the album as one of the musical events of 2002.

Vicky Almazidu has recorded four sessions for the Jazz Time program of the Bulgarian National Television (BNT), together with Milcho Leviev, Georgios Kontrafouris, Angel Zaberski Jr., and Vesko Koichev. At the end of the same year BNT shot a film-portrait, titled "Made to Dream", which has been broadcasted several times. In 2004, as a result of two-year collaboration with Milcho Leviev, their joint album "Quiet Love" was released. The CD consists of eleven original songs and compositions by Milcho Leviev, featuring some of the most prominent Bulgarian jazz musicians. The album debuted at the Sofia Jazz Peek 2004 (Bulgaria) and then in Thessaloniki, Greece.