Master class of Vicky Almazidou
Milcho Leviev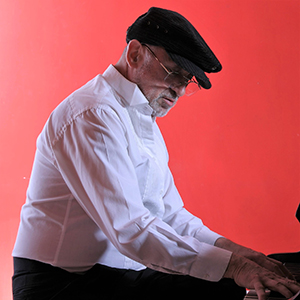 Milcho Leviev
Milcho Leviev is a composer, who has won a lot of awards, arranger, performer (pianist, keyboardist, conductor) and a lecturer in classica and jazz music. Doctor Honoris Causa, New Bulgarian University, 1998.
Holder of the Order of Stara Planina (1997), the highest state honors; awarded by the President of Republic of Bulgaria.
ORDER "SAINTS CYRIL AND METHODIUS", Bulgaria 2007.
Holder of La Médaille de l'Académie internationale des arts, Paris, France, and Doctor Honoris Causa of the Academy of Music, Dance and Fine Arts, Plovdiv, Bulgaria, 1995.
Lecturer at the Jazz Studies Faculty at the University of Southern California, Los Angeles from 1988 to 1998.
Lecturer at the GROVE School of Music, Los Angeles, from 1974 to 1992.
Musical director of the "Come back Inn" jazz club in Venice, CA from 1981 to 1990.
"Dramalogue" USA winner for Best Musical Director in 1987.
Author of the arrangement of "Blue Rondo a la Turk" (Dave Brubeck) recorded by Al Jarreau for his Grammy 1982 winning album "Breakin' Away".
Holder of a Grammy nomination for the Best Vocal Arrangement of Charlie Parker's, "Confirmation", recorded by Manhattan Transfer for the album "Mecca for Moderns", 1981.
Co-leader of the jazz-classical quartet "Free Flight", named Best Combo of the Year in 1982 by the LosAngeles Times.

Author of compositions, arrangements and performances for the American Jazz Philharmonic, the Beverly Hills Symphony, the Sofia Philharmonic Orchestra, the Bulgarian Radio Symphony Orchestra and others. Arranger at Hessicher Rundfunk in the period from 1970 to 1971.
Musical director for the Big Band of the Bulgarian National Radio and Television between 1962 and 1966.
Composer for a lot of Bulgarian feature films, cartoons and documentaries from 1963 to 1968.
Winner of the Critics Prize of the Montreux Jazz Festival in 1967.
Leader and pianist for the Jazz Quartet Focus '65 from 1965 to 1970.
Musical director and composer-in-residence at the State Drama Theatre in Plovdiv, as well as professor of chamber music at the State Music School in Plovdiv (1960-1962). In 1959, he won second prize at the International Youth Festival Composition Competition in Vienna, Austria.
full length FILMS ABOUT MILCHO LEVIEV:
"SILENT MOVIE/MILCHO LEVIEV," feature/documentary, ARS STUDIOS, Sofia
"A LIFE IN 33/16", documentary, film studio VREME 1992.
Film music:
1999 – 2000 Letter to America ​​(international production – Bulgaria / the Netherlands / Hungary)
Silent movie , ARS STUDIOS, 2017, BULGARIA
1992 Chickpeas, Studio "Khaz Music Works" USA 1992.
1963-1969 (films produced by Bulgarian studios):
Men, Tiny Secrets, Autumn Sun, Monday Morning (shown at L.A., USA, Film Expo after being banned by Communist regime for 25 years), Dangerous Flight, A Hot Noon, Detour (First Prize at the International Film Festival, Moscow), Iconostasis (Shown at the Museum of Modern Art (N.Y.) Numerous cartoons and documentaries.
Satirical serial FOCUS.
TV production music:
1973 Doctor's Hospital, series, co-writer with Don Ellis, Universal;
1962-1968 Numerous Bulgarian documentaries and shorts.

Music activities:
2017
February, Thessaloniki, recording for the album
of the group "REGGETICO" as a featured guest.
March, 1st prize for composing theatrical music.
(Maya Novoselska mono spectacle "PAIN SWALLOW"
March 31, Honorary guest, and soloist at the INTERNATIONAL
BLUES AND JAZZ FESTIVAL in Blagoevgrad, Bulgaria.
July 16 & 17 recording for the album with the working title
"MILCHO LEVIEV & VICKY ALMAZIDOU/ CLASSICAL MASTERPIECES GO JAZZ".
September 10 – 21, Leading a Master Class at NBU, Sofia.
November, 10 Premiere of the feature/ documentary film "SILENT MOVIE/ MILCHO LEVIEV" at BULGARIA HALL, Sofia.
2016
March 20, featured composer in the concert "BLUES IN 9",
Music by Bulgarian Composers, with the Big Band of the National Radio.
May 12 – 13, Establishment of the "MILCHO LEVIEV SOCIETY"
September 5 -15, Leading a Master Class at NBU, Sofia.
September 19, a concert for the opening of the Alexander
Sertev Photography Exhibition in Sofia.
2015
Leading a 10 days September masterclass NBU;
Working on the film SILENT MOVIE (about
Milcho Leviev), ARS PRODUCTION;
Promotion concerts of the albums QUIET MARCH and NINA
in Sofia, Plovdiv, and Thessaloniki;
The TZAR KONSTANTIN SPECIAL AWARD for contribution
to jazz at the NISH INTERNATIONAL JAZZ FESTIVAL
2014
The entire year working on the album A JOURNEY IN TWO WORLDS
with BNR Big Band, and the COSMIC VOICES Chior;
10 days September masterclass NBU
2013
April 19, Berlin, Germany, concert dedicated to the salvation
of the Bulgarian Jews during World War II;
Music for THE MERRY WIVES OF WINDSOR by Shakespeare,
staged at the IVAN VAZOV National Theater by the English
director Russel Bolan;
Music Adviser, and interviews for the documentary film RAINY DAY,
shown in Sofia, Plovdiv, Brussels, Moscow, Warsaw, and Krakow.
May, Concert tour of the EASTERN EYE quartet (Leviev, Halbhear,
Pandelis, Kiorzoglu) in Spain.
10 days September master class NBU;
November, Concert tour of EASTERN EYE quartet in Switzerland;
2012
April 27 solo piano appearance at the Atlantic Club Concert in
the National Opera Hall in Honor of the EU Anthem ODE OF JOY
by Beethoven;
May 13, concert duo with Chico Freeman (sax, USA) at the
PORGY & BESS jazz club in Vienna;
10 days September masterclass NBU;
October 15, conducting THESSALONIKI CHAMBER ORCHESTRA
in a concert-tribute to Gershwin, Ellington, and Cole Porter,
Vicky Almazidou soloist;
2011
March 23, EASTERN EYE QUARTET live recording concert at the
MOODS jazz club in Zurich, Switzerland;
10 days NBU masterclass;
May 29, BIG BAND OLYMPICS IN LOS ANGELES.
concert # 15: THE MILCHO LEVIEV BIG BAND,
pieces composed and arranged by Milcho Leviev;
August 11, Milcho Leviev/Chico Freeman concert at the Nish
International Jazz festival;
September 4, concert duo with Dusan Bogdanovic
September 5, closing concert at the APOLONIA Festival in Sozopol;
September 17, soloist with the BNR Symphony Orchestra concert
ORPHEUS RHAPSODY by Milcho Leviev at the Opera House.
2010
January 28, solo concert FILM & JAZZ at the Festival Hall Varna;
April 8, GENERATION DIALOG concert with young musicians
at the SOFIA LIVE CLUB;
August 10 solo concert JAZZ & CINEMA at BANSKO INTERN.
JAZZ FESTIVAL;
10 days September masterclass NBU;
November 26, soloist on RHAPSODY IN BLUE (Gershwin/Leviev)
concert with PLOVDIV PHILHARMONIC, Vassil Kazandjiev conducting.
2008
10 days September master class NBU
September 20, 51st Annual Monterey Jazz Festival , USA
Concert , Film Preview " Electric Heart " with additional music composed by
Milcho Leviev , Discussion: " Electric Heart : Don Ellis : The Man
His Times , His Music "
August 23, Shiroka luka
Summer Art Academy "The Fire of Orpheus" Workshop, concert
with Vicky Almazidy and Valeri Kostov
August 4 – 10, Shiroka Luka, Bulgaria
"Rhodope "International Summer Musiccourse
Master Class – Jazz Improvisation
July 16, Plovdiv " Zanzibar " Club
with Vicky Almazidu – vocal, Ventzi Blagoev – trumpet
July 15Jazz Improvisations, workshop, concert
July 7-12, Smolyan July International Jazz festival,
with Vicky Almazidu, Georgius Kontrafouris – Greece
July 4, 2008, Varna International Music Festival "Varna Summer"
Duo Milcho Leviev – Ganka Nedelcheva performong
Milcho Leviev. Music for two pianos.
June 30, XLI Opera and Ballet Festival, Stara Zagora, Bulgaria
Concert tour with Vicky Almazidu – vocal, Yiotis Kiortsoglou – electric bass, Greece
March 27: March Music days Festival – Rousse, Milcho Leviev's Recital.
March 10-15 Jazz improvisation Workshop for students of NBU. The best students will
take a part of Milcho Leviev's Master Class in November 2008
March 9: Presentation of Electric Heart Film about Don Ellis with Milcho Leviev's improvizations of Don Ellis Music.
March 6: Concert of Prof. Milcho Leviev – Doctor Honoris Causa of NBU, with Sofia Philharmonic in Bulgaria Hall. Conductor: Vassil Kazandjiev. Program: Gershwin, Vladigerov, Beethoven and Author's Music.

2007
Milcho Leviev and Don Ellis Big Bend, Charlie O's Jazz Club, Los Angeles
Voice of America – WILLIS CONOVER TRIBUTE – Paquito D'Rivera and Friends: Milcho Leviev, Horacio Hernandes, George Mraz, Valery Ponomarev – Washington D.C., USA.
Concert at international etno festival JULYJAZZ – Smolian with Vicky Almazidu, Eko, Stoyan Yankulov, Misho Yossifov.
Concert at JAZZFEST in Bansko with Vicky Almazidu, Dimitar Shanov.
Concert at JAZZFEST in Nish, Serbia with Vicky Almazidu, Dimitar Semov, Dimitar Shanov, Ventzi Blagoev.
Bulgarian Premiere of the MULTIPLE PERSONALITIES album at Apolonia Festival in Sozopol.
Art Director of Plovdiv's Jazz Evenings Festival – Concert with Glen Feriss and friends, Concert with Airto Moreira in Plovdiv and Rousse.
The Los Angeles Jazz Institute Presents: Swing in Spring; May 27th, Don Ellis Alumni Band Directed by Milcho Leviev; Electric Heart-A Film About Don Ellis-West Coast Premier.
Milcho Leviev and Veselin Veselinov- Eko opened the International Balkan Fever Fest in Vienna at Porgy and Bess Club.
Workshop for the students of New Bulgarian University. The best students in the Workshop were entitled to enroll Milcho Leviev's Master Class in November 2007.
2006
Charity concert for the construction of a monument of Radoi Ralin in Sofia with Vicky Almazidu, Mitko Semov, Eko and Petar Momchev – "Lumier" hall, National Palace of Culture.
Concerts in Moscow, featuring the grand comeback of the eminent Russian saxophonist Alexey Zubov after 25 years of emigration.
Joint concerts with Milcho Leviev and Band: Galina Vishnevska Opera Hall, Blue Bird Jazz Club, Moskow
Tour with Vicky Almazidou, organized by Radoi Ralin Foundation: Blagoevgrad, Sofia, Stara Zagora.
Charity concert in the town of Elena, with Vicky Almazidou. The revenues of the concert are to be donated for the construction of St. Petka Chapel in Elena.
A ten-day Master Class in jazz improvisation at NBU.
Musical Director and leading performer of the closing concert at the 2nd International Festival "Plovdiv Jazz Evenings" in September.
"The Students of the Master" cycle – official presentation of the books "Life in 33/16" by Milcho Leviev and "Given by God" by Vassil Kazandzhiev at the "Pancho Vladigerov" home-museum.
Katoomi Quartet Reunion at the Jazz at 'A' Frame in Los Angeles.
Karen Briggs, Albert "Tootie" Heath, Nedra Wheeler and Milcho Leviev together again after 16 years.
Preparatory five-day course for the 2006 NBU Master Class.
Concerts and seminar at the Duke University, North Carolina.
Conducting a concert in tribute to Duke Ellington and Cole Porter with the Classic FM Radio Chamber Orchestra (soloist Vicky Almazidu) at the 4th International Sofia Jazz Peak Festival.
Concerts in Athens, Thessalonikki, Sofia, and Rousse.
Participation at the 4th International Sofia Jazz Peak Festival and a concert at the American Embassy in Sofia with Peter Erskine, Youtis Kiortsoglou and Vicky Almazidu Quartet.
2005
Leading the Bulgarian jam sessions for the Step Across the Border International Jazz Festival at the PORGY & BESS Jazz Club, Vienna, Austria.
Participation at the SOFIA JAZZ PEAK International Festival. Duo pianos concert with Liudmil Angelov.
Concerts of original symphonic compositions with the Sofia Philharmonic Orchestra and the Burgas Symphony Orchestra.
Master Class at New Bulgarian University.
The Sofia Philharmonic Orchestra premiering SONATA 1957 for violin & orchestra, and Vasil Kazandjiev's orchestration of VARIATIONS ON A THEME BY CORELLI (soloist M. Leviev).
Musical Director of the First International Jazz Festival in Plovdiv. Musical Director of the Don Ellis Orchestra Reunion Concert at the"Whiskey a Go Go" in Los Angeles.
2004
Playing the piano for The Ellington Reunion, presented by The American Jazz Institute at the Claremont College on 2.9. 2004.
Concerts and jazz club dates in Bulgaria, and Greece
2003
Concerts, and jazz club dates in Bulgaria, Greece, and Russia.
Solo piano concert at Claremont College California. NBU Master Class.
2002
Concerts at the Big Conservatory Halls in Moscow, and St. Petersburg.
Honorary professor of New Bulgarian University, a 10-day Master Class at NBU.
2001
A 10-day Master Class on "Formal, aesthetical & social aspects of jazz music" at NBU.
Concerts in Turkey, Bulgaria and Brazil (with SAO PAULO JAZZ SINFONICA)
2000
Concerts and club performances in USA with trio Lesentu, Herbie Mann, Jack Sheldon, and others.
1990-2000
Lecturer on modern music at Elder Hostel, Desert Hot Springs, California.
1999
Soloist, the Nuremberg Philharmonic; Concert of original chamber music in Sofia; Closing the month of European
Culture in Plovdiv; International jazz festival in Bansko.
1998
Leviev / Slon quartet, with Randy Brecker,

With Herbie Mann and Benny Golson at VARTAN JAZZ, Denver, CO.
1997
Gala 60th Anniversary concert at the NATIONAL PALACE OF CULTURE, Sofia, Bulgaria. Concert tours in Switzerland, Austria and Germany.
1994-1996
Tours in Bulgaria, Israel, Switzerland and Germany.
1993-1995
President of the Jury – International TV-Music Film Festival ('94 & '95) in Blagoevgrad, Bulgaria.
Solo piano recital at Seal Beach Chamber Music Festival, California.

1990-1993
European solo tours (France, Germany, Switzerland, Bulgaria), as well as seminars, conducted at the Basel Jazz School, and at Varna International Music Festival. Composed and performed "Orpheus Rhapsody" for piano and orchestra (commissioned by the National Endowment of Arts for the American Jazz Philharmonic)
1983-1989
Japan tours with bassist Dave Holland.
L.A. Theater Center – Expanded arrangement of "Rhapsody in Blue" for Valley Master Chorale and All-Star Jazz Combo, arranger and soloist).
1985-1986
European tours in 1985 and 1986.
"Sympho-Jazz Sketches" (commissioned by the American Jazz Philharmonic);
premiered at Dorothy Chandler Pavilion (composer and soloist)
1980-1983
Co-leader of "Free Flight" (Playboy Jazz Festival and a lot of other festivals and venues), the Tonight Show, and a winner of the Los Angeles Times Best Combo of the Year Award, 1982. Played/recorded with Charlie Haden, Joe Farrel, Eddie Harris, James Newton, and others.
1971-1979
Toured/recorded with: Lainie Kazan (musical director), John Klemmer, Art Pepper, Gerald Wilson, Bill Holman, Eddie Jefferson, Mark Murphy, Ernie Andrews, Michael Franks, Willie Bobo, Roy Haynes, Billy Cobham, Carmen McRae, Airto Moreira, Flora Purim. Keyboardist, composer and arranger with the Don Ellis Orchestra (1971-1976)
1974-1975
Milcho Leviev worked with Billy Cobham as, a keyboardist, composer, and arranger in Billy's
Band 1974 and 1975, tours in USA, and Europe.
Recorded 3 albums with Cobham: TOTAL ECLIPSE, SHABAZZ, and A FUNKY THIDE OF SINGS, as a pianist, composer, and arranger.
As an artistic Director of the International PLOVDIV JAZZ EVENINGS Festival, Milcho Leviev invited Billy, and his band CULTURE MIX.
Major compositions:
Letter to America (Suite from the motion picture) for Choir & Chamber Orchestra (2002)
Chickpeas (Suite from the motion picture) for Jazz and String Quartets (1992)
The Green House Cantata for Twelve Voices and Jazz Trio (1991)
Orpheus Rhapsody for Piano Jazz Trio and Symphony Orchestra (1988)
The Golden Fleece for Piano and Big Band (1984)
Sympho-Jazz Sketches for Jazz Combo and Symphony Orchestra (1982)
Eleven Inventions for Instruments or voices(1978)
A Child's Day Suite for Piano (1976)
Arrangements for Woodwind and String Quartet
Issac's Touchstone for Piano and Symphony Orchestra (1975)
Moody Modes for Jazz Orchestra (1974)
Wolfgang for All Seasons for French Horn, Tuba and Jazz Orchestra (1972)
Sladka Pitka for Jazz Orchestra (1970)
Nestinare Suite for Big Band (1970)
Balkan Cowboy suite for Symphonic / Pop Orchestra (1969)
Anti Waltz for Big Band (1966)
Music for Big Band and Symphony Orchestra (1966)
Concerto for Jazz Combo and Strings (1965)
Blues in 9 for Big Band (1963)
Study for Big Band (1962)
The Roses Musical (1961)
String Quartet (1960)
A Little Old Time Music for Symphony Orchestra (1959)
Sonata for Violin and Piano (1957), Orchestral Version (1988)
Variations On a Theme by Corelli, for Piano and Symphony Orchestra (1956)
Piano Sonatina (1955)
Major arrangements and orchestration:
Sheherazade (2001), after Rimsky Korsakoff, a jazz suite; American Songbook (1987) for choir and orchestra;
Rhapsody in Blue (Gershwin, 1986) for choir and jazz combo; General Lavine-Eccentric (C. Debussy) and Foxtrot (Vladigerov) for symphony orchestra (1969); Fantasy on Porgy and Bess for Big Band (Gershwin, 1964)
Published works
A CHILD'S DAY for 2 guitars, arr. by Dušan Bogdanović (DOBERMAN. YPAN, Canada 2004)
MILCHO LEVIEV/ Piano music – from 1958 to 1998 (VEDA SLOVENA, Bulgaria 2003)
SONATA FOR VIOLIN AND PIANO, Union Of Bulgarian Composers, Bulgaria, 2000.
PAVANE FOR A TRUE MUSICAL PRINCE (DON'S SONG) and
FOR FREDERICK & BILL (IN TIME) for jazz choir (UNC Press, Colorado 1991)
TRAVELERS for voice & piano (lyrics), (Union of the Bulgarian Composers, 1990)
MILCHO LEVIEV / 38 JAZZ THEMES (Muzika, Bulgaria – 1990)
A CHILD'S DAY and EIGHT 2 VOICE INVENTIONS for piano (Muzika, Bulgaria 1990)
A CHILD'S DAY, Muzika, Bulgaria, 1987.
EIGHT TWO PART INVENTIOS for piano or voices, Muzika, Bulgaria 1987.
A TWO VOICE INVENTION AND KEYBOARD ETUDE IN BASS CLEFF for piano ("Keyboard" magazine, 1985)
MILCHO LEVIEV/ FAKE BOOK (Dick Grove Publications, 1982)
2 chapters for THE NEW RHYTHM BOOK by Don Ellis (EME 1974)
MILCHO LEVIEV/ EIGHT JAZZ PIECES (Art & Science, Sofia, Bulgaria 1968)
SONATA FOR VIOLIN & PIANO (Art & Science, Sofia, Bulgaria 1968)
STUDY, BLUES 9, and BLUES IN 9 (Moderne Rhythmen, Lied der Zeit, Berlin, 1967)
12 JAZZ PIECES (In Love again, All Youth is New, Bossa Nova, Blues in 10, Monday Morning, Anti Waltz, From 6 to 8, Autumn Sun, Deviation, Tiny Secrets, Passacaglia), Union of the Bulgarian Composers, 1964-1968)
TOCCATINA FOR PIANO, Art and Sciences, Bulgaria, 1965.
TOCCATINA FOR PIANO (Art & Science, 1960)
RECENT DISCOGRAPHY:
"NINA" – live in Studio – Vicky Almazidou & Milcho Leviev- 2015
A JOURNEY IN TWO WORLDS, for Big Band and "Cosmic Voices " Choir , music BNR, Bulgaria 2014
QUIET MARCH, live in Studio, solo piano, perfect records, PR CD002, Bulgaria 2014
SONG OF THE CLOWN/ Pancho Vladigerov – Milcho Leviev,
NBU MK55000, Bulgaria 2010
JAZZ NA HRADE/ MILCHO LEVIEV & FRIENDS,
multisonic 310766-2, Czheck Republic
WINTER TALE/ Milcho Leviev-Dusan Bogdanovic duo,
Doberman-yppan, DO 667, Canada 2008
as a sideman:
ART PEPPER LIVE AT FATT TUESDAY
elemental music 5590427, USA
ART PEPPER/RONNIE SCOTT LONDON, COMPLETE 4 DISCS
widdow's taste vol. VI 11001 USA
ART PEPPER/ UNRELEASED ART
widdow's taste vol. V APM 10001, USA
ART PEPPER/ THE ART HISTORY PROJECT
widdow's taste vol.IV APM 09001
ART PEPPER/ UNRELEASED ART
widdow's taste vol. III APM 08001, USA
KARANDILA/ CYCLOP CAMEL
messechina music MM01, Bulgaria
KARANDILA JUNIOR/ GETTO HOPE
balkan fever LTD BF042, Bulgaria
Compositions, arrangements and articles in Down Beat, Keyboard, The Piano Stylist, Piano Today and other magazines worldwide.