Summer Music Academy 2017
Gregory Simadopoulos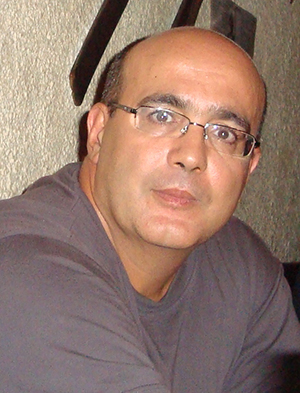 Gregory Simadopoulos: piano, theory and harmony (Greece)
"Improvisation Tips"

The Gala Concert will take place on September 21 st, 2017, at 9:00 pm., at Sofia Live Club, featuring the most successful participants in the Academy, with the special participation of their tutors. The auditions for all instrumentalists and singers, jazz and classical musicians (no age restrictions) will be held on September 10th, 2017, at the Aula of New Bulgarian University or via online submission of materials.
The audition for instrumentalists requires candidates to prepare three pieces (jazz/pop standard, classical or original compositions) in fast, medium and slow tempos.

The audition for singers requires candidates to prepare a folk/ethno song, jazz standard, and a piece of their choice.

TEACHING POSITIONS
Has taught classical piano in the Conservatory of North Greece.
Synchrono Conservatory of Thessaloniki. 1995-present Collaborative pianist in jazz, classical and Greek music singing classes and piano teacher in the jazz piano class.
Conservatory F.Naka. 1997- present Jazz piano teacher and accompanist in all instruments and singing classes.
Conservatory K.Matsigou. 2001- present Classical and jazz piano teacher.
Municipal Conservatory of Kavala. 2004-present Piano teacher.
Also, worked as an accompanist for the Professional Dance School of the Municipality of the city of Thessaloniki for the last three years, while for one year (2011) performed the same duties for the "Voutsina Drama School".



EDUCATION
Studied piano with P.Mitsopoulos
In 1995 was awarded the Piano Diploma with honours by the Conservatory of North Greece under the professor Simona Mehae.
In 1991 was awarded a Diploma by the Royal Academy of Music in London after the relevant exams which took place in Thessaloniki, achieving the highest score in the Mediterranean (170 out of 200).
In 1995 and after a 5-day seminar in Athens, he received a scholarship from the Berkley College of Music, the only one that was offered to a pianist from Greece that year.
In 2013 was awarded the Fellowship Diploma of the London College of Music in Jazz Piano Performance (FLCM), by the University of West London after the relevant exams which took place in Thessaloniki.
SEMINARS
Has attended seminars with Giannis Jonker, Georgios Hatzinikos, Christine Fressinier, RaySantisi, Ganev duo, Jon Hendricks, Milcho Leviev, C.Bucke, Larry Monroe.
In the summer of 2005 participated in the jazz clinics of the Umbria Festival in Perugia, Italy with professors of the Berkley College of Music.


PERFORMANCES
In 1998 took part in the international competition of Jazz piano Martial Solal in Paris.
Has performed with acclaimed musicians Milcho Leviev and Chico Freeman.
Performed and collaborated with numerous famous musicians and bands in Athens, Thessaloniki and other cities. (Aroma Caribe (latin) Humpty Dumpty (Funk), Jazzoo, Nariz, Costas Magginas Quartet, Julie Massino etc.)
Has appeared in Vafopouleio Cultural Centre, the Cultural Centre of Polihni, Goethe Institute of Thessaloniki, the Aristotle University of Thessaloniki, where he performed jazz, classical music, Kurt Weil Piazzola, etc.
In 2004 performed in the closing concert of the 'Dimitria' Festival in the Thessaloniki Concert Hall with the orchestra of Akis Gounaris and with Manolis Mitsias as soloist.
In 2005 appeared in the concert for the victims of the Sri Lanka disaster in the Thessaloniki Concert Hall with the Municipal Orchestra of Thessaloniki and Dimitris Mpasis as soloist, performing Theodoraki's "Axion Esti".
Since 1989 has collaborated with famous Greek musicians such as: G.Spanos, E.Tsaligopoulou,M.Rasoulis, L.Kalimeri, N.Papazoglou, M.Mitsias,M.Kana, D. Mpasis, Elli Paspala, Nikos Ziogalas, Evi Siamanta.
He performed and recorded for the albums of the Greek Singers, Dimitra Galani and Katerina Kouka.
Additionally, has performed in:
The Teloglion Foundation of Art with the orchestra of the Department of Music Studies of Thessaloniki.
The University of Macedonia with the Big Band of the Synchrono Conservatory of Thessaloniki (SCT) and SCT Quartet.
The 1st Almazidou and Lydian Riff.
For the last 25 years he has professionally performed in various clubs and venues in the city of Thessaloniki
For the last 10 years he has been performing on a regular basis in the Hyatt Regency Casino of Thessaloniki. international jazz festival in Bankya, Bulgaria (2003) with Vicky